Home
Can I train to get a bartender certificate online?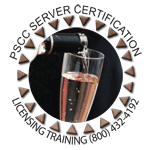 Yes! Our Responsible Serving® course can get you a bartender certificate to sell and serve alcohol in most states.

Many states now require that anyone who sells or serves alcohol takes a Responsible Serving® of Alcohol or Alcohol Server Certification course. This applies to bartenders, waiters, waitresses, and in many cases, off-sale liquor, beer or wine retail stores. Professional Server Certification Corporation (PSCC) offers state-approved server certification courses which contain important information concerning the responsible serving® of alcohol and your state's liquor laws. In addition, PSCC also offers online training & certification courses available to waiters, waitresses, wine servers, and bartenders who want to increase their tips and gain valuable information.

Our courses are designed to be taken completely online and give individual bartenders or servers the ability to become trained and certified as easily and quickly as possible. Additionally, our courses give employers the ability to have their entire staff of bartenders, waiters, or waitresses certified through our program. PSCC's responsible serving® course has been reviewed and approved both by individual state alcohol control agencies and liquor liability insurance companies to ensure that it is aligned with the national standards for alcohol seller/server training and is approved to fulfill training requirements in most states. You can click here to view specific requirements for your state.

PSCC is backed by a professional support staff available twelve hours a day, 6 days a week that is available to answer your questions personally using our toll free hotline. All courses are well-designed, simple to use, and can be taken entirely online using almost any Internet-connected computer, notebook, tablet, or mobile device.



Three Easy Steps to Get your Responsible Serving Certification:


1. Order your state's "Responsible Serving® Course"


2. Take the course online
3. Print your temporary certificate online instantly



For more information on PSCC's training courses visit:




---
Professional Server Certification Corporation
PO Box 192
Madison, SD. 57042
Contact Us
1-605-427-2000